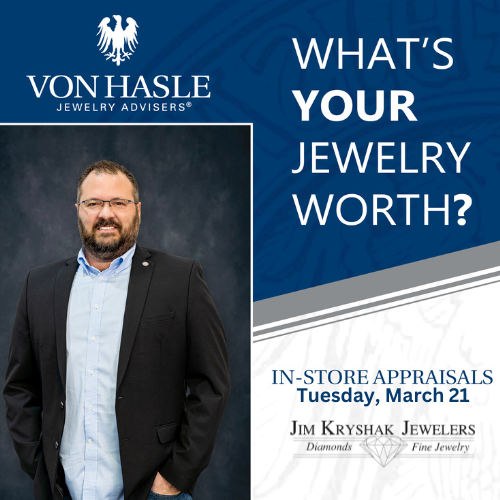 How Much is Your Jewelry Worth? Find out during Jewelry Appraisal Day at Jim Kryshak Jewelers with Joel Hassler; GIA GG, ICGA (AGS) of Von Hasle Jewelry Advisers.

The next Appraisal Date - March 21, 2023.

Bring your valuable jewelry in to Jim Kryshak Jewelers before Joel's visit (so we can get it cleaned up and ready for him to inspect when he arrives). During your drop-off visit you'll consult with a Jim Kryshak Jewelers team member who can walk you through the process and answer any questions you might have about your upcoming appraisal. This consultation with our team is free, but if you choose to move forward with an appraisial there will be a fee.